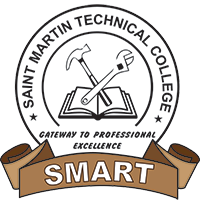 ACCREDITATION: Ministry of Secondary Education 
(INDUSTRIAL, COMMERCIAL AND GENERAL)
Decision No: 240 / 18 / MINESEC / SG / DESTP / SDSEP / SSEPTP of 10th September 2018
Decision No: 12 / 20 / MINESEC / SG / DESG / SDSGEPESG / SSGEPESG
Saint Martin Technical College (SMART) is a lay Private Technical Secondary and High School located in Bonaberi – Douala Cameroon.
It is equipped with modern workshops for a practical based training approach for all her students SMART is authorized by the Ministry of Secondary Education (MINESEC) in Cameroon. Her mission is to provide quality training in the Technical Education Sector in English and in French for young Cameroon and Foreign students for Professional Excellence in the job market.
It offers first and second cycles Industrial and Commercial Education for both male and female students with particular focus on encouraging the girls into industrial education.
Students trained in SMART can sit for the following official examinations in their related trades:
Certificat D'Aptitude Professionel͟( CAP) / Technical Certificate of Education ͞O͟ Level
PROBATOIRE
Technical Certificte of Education ͞A͟ Level / Baccalaureat and other Professional Certificates examinations
SMART is managed by a team of experience technical education professionals and experienced teachers. For an inside of our various trades offered, academic affairs and other school activities.
Send us a message using the contact form here.
Apply or
send to us

a Comment or Question